About High School Drama Club
The HS Drama Club is a school sponsored activity in which students volunteer to rehearse and perform plays for the community. Students who are involved in HS Drama are dedicated artists who want to show that empathy and compassion are important to our growth as a society, demonstrating that there is more to life than just what you see! These students prepare for weeks and weeks to show off their amazing talents to a wide array of audience members. From young ones to mature ones, everyone has an invitation to attend one of our performances. Traditionally in the fall semester, the HS Drama Club puts on a performance specifically for the younger members of the community in an interactive children's show written by Scott City graduates. In the spring, we showcase a play that is for the older crowd, proving that theatre is for everyone.
The HS Drama Club meets every Monday and Wednesday, from 3:30 PM until 5:00 PM. Auditions are held in the fall 3 weeks after the beginning of the school year for the children's show, as well as 1 week prior to the end of the 1st semester for the competitive pieces. You don't have to be an actor to join! For every actor on the stage, there are at least 3 technicians to help with everything in the show from costumes to set pieces. Every hand is a helping hand when it comes to a production. If you have any questions, email Mrs. Wilcoxson.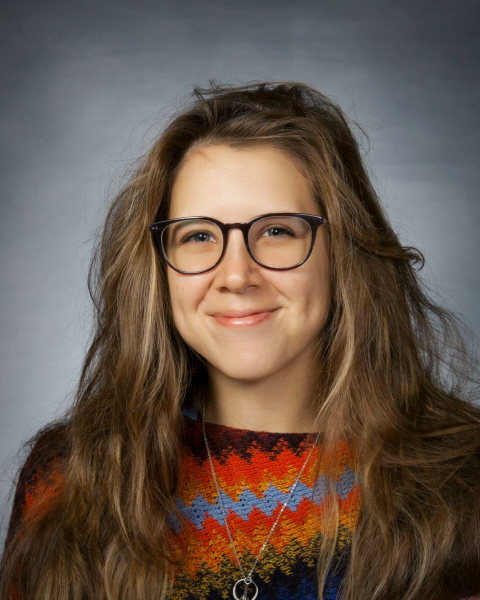 Olivia Wilcoxson
Mrs. Olivia Wilcoxson is a Scott City School Alumni of class 2010. She went on to pursue a BFA in Theatrical Design and Technology, with an emphasis in scenic painting and design. She has worked for professional theatres, such as the Spinning Tree Theatre in Kansas City, as well as educational theatre, such as the SEMO River Campus and UCM Department of Theatre and Dance. She began her career at Scott City Schools as a paraprofessional and moved into teaching Theatre, Stagecraft, English, and everything in between. She is the head of the HS Drama Club and the head coach of the Speech and Debate team. She knows that reading and understanding is fundamental in the development of her students, and she is always so stoked to share her passion for the arts with anyone who will listen. You can contact Mrs. Olivia Wilcoxson through her school email address.
"Parker and a Christmas Carol"
December 1, 2023 – 6:00 p.m.
December 2, 2023 – 2:00 p.m.